FOR IMMEDIATE RELEASE
February 21, 2017
RLS Ventures
PO BOX 801294
Valencia, California 91380-1294
press@rlsventures.com
(818) 925-6861
LEXILE TEXT SCORES RELEASED FOR ALEXANDER ADVENTURES
Widely Used Framework Matches Student Abilities with Books
Lexile® measures have been released for all three volumes in Rich Samuels' Alexander Adventures, a young adult coming-of-age comedy about one boy's self-conscious stumble into his teens.
The Lexile® Framework for Reading evaluates reading ability and text complexity on the same developmental scale. Recognized as the standard for matching readers with texts, tens of millions of students worldwide receive a Lexile measure that helps them find targeted readings from the more than 100 million articles, books and websites that have been measured.
The critically acclaimed "Alexander Adventure" books, My Life at the Bottom of the Food Chain, Own the Scrawny and My Epic Life focus on Alexander's outrageous yet achingly familiar early teen anxieties. The Lexile scores will help match the books with the right readers, ages 10-14.
The scores:
| | |
| --- | --- |
| My Life at the Bottom of the Food Chain | 690L |
| Own the Scrawny | 740L |
| My Epic Life | 640L |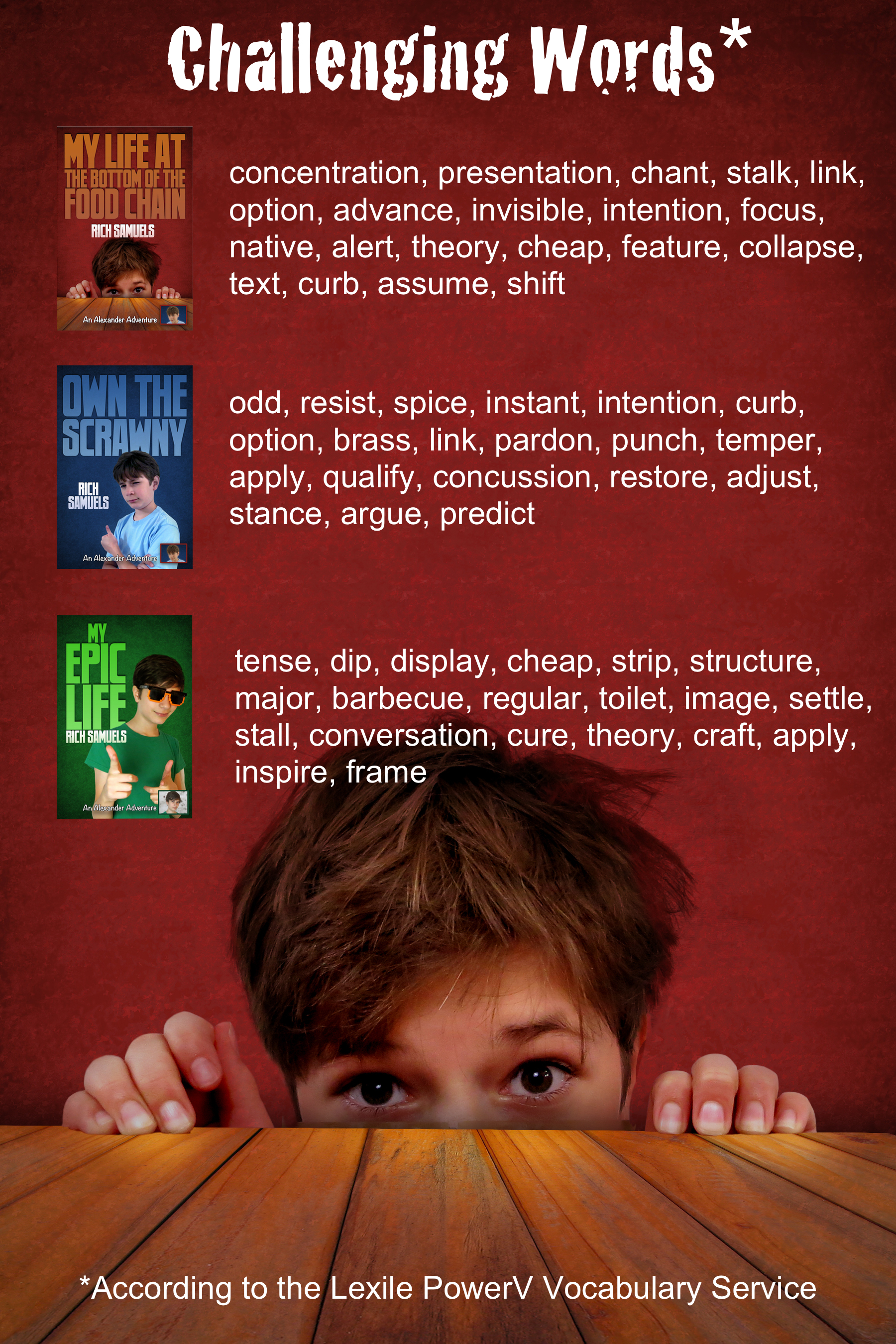 Popular titles in the same Lexile® range include The Maze Runner, The Book Thief, The Giver, Wonder, Percy Jackson and the Olympians and Holes.
The Alexander Adventure series are available in paperback or e-book at Amazon.com and most online retailers.
For information on the Alexander books, readers can visit RichSamuelsAuthor.com. More information about the Lexile® Framework can be found at Lexile.com. 
####